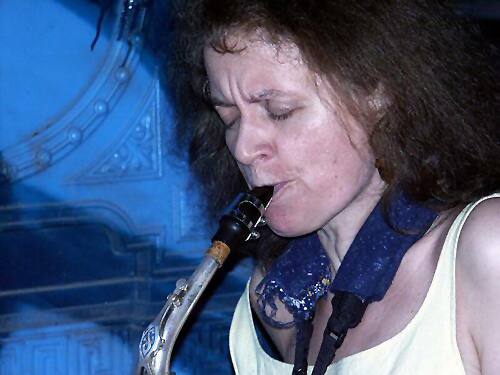 Bálványos Judit started playing the saxophone at the age of 17 and studied at various schools in Hungary. Her first invitation to a professional group came from Hungary's free and ethno jazz saxophonist Dresch Mihály. In 1992 she went to Boston, MA to attend Berklee College of Music. She graduated in Performance in 1995. During her studies and later stays in the US (1993-98) she performed and recorded with her own (Bálványos Ensemble) and other musicians' groups in Boston and New York. She played in clubs like 'The Willow Jazz Club' and 'The Book Cellar Café' in Boston and 'The Knitting Factory' and 'ABC No RIO' in New York. Her first recordings with her quartet contained her own arrangements based on Hungarian folk music and improvisation. Later she wrote her own compositions for trios up to quintets, also incorporating improvisation (like Cemetery, Menuet, Baroque, Meditation, etc.) and a longer composition (Devi) for an eight-piece orchestra.
She formed the Bálványos Társulat (Ensemble) in 1998 in Hungary, with Hungarian musicians. With this Ensemble she started by playing loosely composed and arranged, improvised music to go on to play without previous arrangements as well. Their first CD (untitled) came out at the end of 1999.
She often works with visual artists, like Dutch artist Lous Stuijfzand, Hungarian painter Lóránt János Demeter, for whose art video she created the music with violinist Vincze Zsuzsa, sculptors Gádor Magda and Nagy Sándor, her father, graphic artist Bálványos Huba, and many others.
Bálványos Judit's collaboration with improvising contemporary dancers in Boston include performances at 'The Actor's Workshop Theater' and 'The Green Street Dance Studio'. In Hungary she worked in duo with dancers, and played in other musicians' or dancers' projects. She wrote and played the music for 'Space-Sensitive Dreams' by the Orkestika Movement Theater in Budapest, created the written parts of and played with her ensemble the composed-improvised music for the dance piece "The Chosen One", and worked with German performance artists in street happenings in Frankfurt.
With her saxophone duo she worked with German butoh dancer Anna Barth. They created several pieces together in Budapest, in Zurich at the Pro Fuge Festival, and in Berlin, with visual artist Thomas von Arx's stage art.
She has also played written classical music, for example Bartók's First Rhapsody, among other classical pieces, at the Hungarian Radio. In July 2005 she received a 10-month grant from her local government (XI. district, Budapest) to work on and record her one-woman compositions.
She took up photography in 2006, and has used her photos in her audio-visual works and concerts. She's been playing solo concerts since 2006.
She wrote a through-composed piece for two cellos in 2008.
compositions:
compositions using Hungarian folk music and improvisation, for small groups
(Boston, 1993-1995)
"Devi", composition for an 8-piece orchestra (Boston 1994)
compositions incorporating improvisation, for own groups, Boston and Budapest:
baroque, weaver, menuet, , cemetery
music for the video showing the art of Lóránt János (1998, with: Vincze Zsuzsa, violin)
music for "Space-sensitive Dreams", a dance piece by Tatai Mária
music for "The Chosen", (Alternative Theater selection 2001: award for best dance piece)
music for the theater piece "Guts" by the Alfama Company, Budapest (2003)
spontanious compositions in the Bálványos Ensemble (1999-2007)
one-woman compositions (2005-2006)
audio-visual compositions (2006-)
Impromptu for two violoncellos (2008)
performances, appearances:
'The art of the Moment', OIK / Foreign Language Library, 2011
Visual Sound concerts (Szeged, Budapest) 2009
'Charcoal drawings', International Artfilm Festival, Szolnok, 2008
concert presenting the DVD 'Visual Sound', 2008
exhibition openings in Hungary, (1998-present)
International Women's electroacoustic Listening Room Project at the 6th annual Women in New Music Festival, 2007 California State University, Fullerton, USA, in the program: 'Charcoal drawings' by Bálványos Judit; program notes: I composed the music of 'Charcoal drawings' as the audio part of an audio-visual piece I'm currently working on. The visual part contains my photos, which explore the abstract art of bare trees and which I am now forming into a film. As I arranged the photos into four bigger sections so is the music divided into four parts. The first and third are for piano and alto saxophone, the second and four for two alto saxophones. I started composing it by improvising, looking for sounds that go with the atmosphere of the photos, and this improvisation developed into a semi-composed, semi-improvised piece. I played all the parts, saxophones and piano, playing along with myself, and put them together in the computer.
Greek Radio radio 3 (90.9), 'Renaissance', 2006
one-woman pieces solo concert, Artists retreat, Mezőtúr, August, 2006
VOICES ON THE EDGE: Women in New Music Festival March 9th-12th, 2006 / The International Women's Electroacoustic Listening Room Project On the Road: San Francisco, Minneapolis, Miami, New York, Los Angeles, Amsterdam, Paris, China: in the program: Bálványos, Judit (Budapest, Hungary) Reverie 9:41
Woerden Library, The Netherlands, solo performances, 2006: for the exhibition of Lóránt János; 2001: on the exhibition of Lous Stuifjzand
Nagy Sándor's exhibition - Sopron, Körmendi Gallery, 2006
Boston (1993-1997): Berklee College of Music, Willow Jazz Club, Book Cellar Café, Cambridge Library, Harvard kör, Ryles
Green Street Dance Studio, Actor's Workshop Theater
New York (1997): ABC No Rio, Knitting Factory
Dresch Mihály's wind ensemble, Budapest